Turmeric Variety developed from Uttar Banga Krishi Viswavidyalaya – Notified for release in the State of West Bengal
Uttar Banga Krishi Viswavidyalaya has developed a variety of turmeric Uttar Rupanjana, which was notified by the Ministry of Agriculture and Farmers' Welfare (Department of Agriculture, Cooperation and Farmers' Welfare), Govt India on 26th November 2019 (Ref. No. The Gazette of India, EXTRAORDINARY, Part –II, Section -3, Sub Section –(ii), No. 3841, New Delhi, dated 26th November, 2019). It is a variety having yield of 43.25t/ha with moderate curcumin percentage of 5.20 along with oleoresin percentage of 11.85 which are most essential quality parameters of turmeric.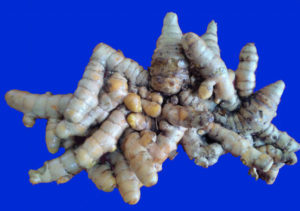 Uttar Rupanjana is also found to be moderately resistant to leaf spot and leaf blotch diseases in all the regions of West Bengal. The genotype was collected in Birpara Tea Estate (26.71oN; 88.89oE; 104 m above sea level) in Alipurduar district of West Bengal in 2000. This variety was developed by Scientists of the Uttar Banga Krishi Viswavidyalaya with the support from Director of Research.
Comments are closed.