Associate Dean
Dr. Jyotirmay Karforma
PH: 03522-253637, Mob.: +919434169745
Postal Address : College of Agriculture, Uttar Banga Krishi Viswavidyalaya, Majhian, Dakshin Dinajpur, West Bengal-733133.
E-Mail:  [email protected]
College of Agriculture, Majhian at a glance:
The growth of the University for last seventeen years has been phenomenal. The University has made its remarkable influence for catering to the need of the farming community through location-specific research and dissemination of research outcome through five KVKs spread across the districts under its jurisdiction.
The successful performance of the University as well as the agricultural graduates for the improvement of agricultural scenario of the state proved the importance of education in agriculture. The State Government decided to establish one college of Agriculture at Dakshin Dinajpur as an extended Campus of Uttar Banga Krishi Viswavidyalaya from the academic year 2014-15. The College started functioning from 1st September 2014 at Dakshin Dinajpur having intake capacity of 30 students per year. The academic programme was started with the help of previous and newly appointed faculty members for this college. The 1st batch of College of Agriculture (Extended Campus), UBKV is on the verge of accomplishing their B.Sc. (Ag) Hons. Degree.
LOCATION: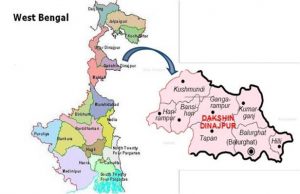 | | |
| --- | --- |
| | |
| Boys' Hostel | Girls' Hostel |