GINGER VARIETY RELEASE NOTIFICATION
Ginger variety Mohini (UBKV AADA-1) which is recommended for national release throughout India in ginger growing states in 27th Workshop on AICRP on Spices held in NRCSS, Ajmeer, Rajasthan, is notified for national release at CVRC meeting held in 16th January, 2018. (http://egazette.nic.in/WriteReadData/2018/182038.pdf ), please see serial no. 21. Novel and distinguishing characteristics of the variety: (a) Bold size, (b) high yield, (c) high dry recovery content, (d) high range of essential oil and oleoresin content. It is specially recommended for cultivation in West Bengal, Orissa, Kerala and Himachal Pradesh along with all ginger growing states of the country.
Characteristics of the variety MOHINI:
1. Bold and attractive flavoured rhizome
2. High yield potential -14.0t /ha (approx.)
3. High dry recovery percentage – 21.7%
4. High essential oil content: 1.31%
5. High oleoresin content: 4.13%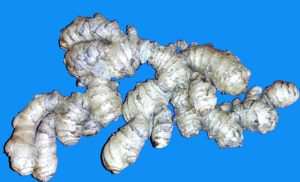 Persons associated for over all development for release in all India level:
Contributors:
Breeder: Dr. Soumendra Chakraborty, UBKV
In Charge and Horticulturist: Prof. Suchand Dutta, UBKV
Pathologist: Dr. Anamika Debnath, UBKV
Pathologist: Dr. Sekher Bandopadhya (erstwhile), UBKV
Pathologist : Dr. Surajit Khalko (erstwhile), UBKV
Horticulturist: Prof. Jagadish Chandra Jana (erstwhile), UBKV
Breeder: Prof. B.C. Saha (erstwhile), Presently : BAU, Sabour
Technical Assistant : Murari Krishna Roy, UBKV
Technical Assistant : Samsul Haque:(erstwhile), UBKV
Technical Assistant: Bhaskarjyoti Dutta (erstwhile), UBKV
Support from other centres:
D Prasath, B Sasikumar, HJ Akshitha : IISR, Kozhikode, Kerala
Parshuram Sial: High Altitude Research Station: OUAT Pottangi, Orrisa
Happy Dev Sharma, Meenu Gupta and Vipin Sharma: YSPU H&F, Solan
All the labours associated with it from rhizome sowing up to harvesting in the field level and doing various other activities are also duly acknowledged for the success.
Download Gazette of Ginger Variety MOHINI released notification
Comments are closed.