[border margin="no"][/border]
REPORT ON VISIT BY HE AUSTRALIAN HIGH COMMISSIONER TO INDIA  AT COOCHBEHAR, WEST BENGAL DURING 08-10 NOV 2017
CONTEXT: Uttar Banga Krishi Viswavidyalaya (UBKV) is making the agricultural education more innovative through incorporation of the futuristic trends by rendering more skill orientation and researching on global issues through implementation of the activities under Australian Centre for International Agricultural Research (ACIAR)-funded project on Sustainable and Resilient Farming Systems Intensification in Eastern Gangetic Plains (SRFSI) jointly implemented by the Department of Agriculture, Government of West Bengal and UBKV. Within these sixteen years of University's memorable journey, hosting the visit of Hon'ble Her Excellency Australian High Commissioner to India, Ms Harinder Sidhu is one of the wonderful feathers in its cap. She was accompanied by the Regional Manager of South Asia, ACIAR Dr. (Mrs) Kuhu Chatterjee, and Technical Leader, SRFSI project and Senior Cropping System Agronomist, CIMMYT, Bangladesh, Dr. Mahesh Gathala,.
08 Nov 2017: Brief and meaningful interaction with the Post-Graduate Students of UBKV : Honourable Chief Guest, Her Excellency High Commissioner of Australia to India arrived at the UBKV in the evening and was warmly greeted by the District Magistrate, Coochbehar, West Bengal, Vice Chancellor, UBKV and other officials, students of UBKV. A brief, meaningful interaction was organised at the Swami Vivekananda Hall of the University with almost one-hundred numbers of post-graduate students in terms of the scope related to higher education, areas of excellence, availability of fellowships in Australia, etc. Her Excellency expressed her decisive opinion regarding the educational opportunities and the fellowships available to pursue education and research, social life, culture, economy, trade, agricultural scenario and market in Australia. The session was very lively and lasted for about 90 min in a participatory mode.
09 Nov 2017: Exposure to SRFSI activities at Durganagar node, Dinhata block, Coochbehar, WB : Women Self-Help Groups (SHG), local service providers and the private agencies engaged as the Innovation Platform members of DFAT-SDIP-ACIAR-SRFSI project interacted with Her Excellency in terms of the bio-physical and socio-economic impact of Conservation Agriculture technologies. After an enthusiastic discussion, she visited the nearby core trial plots of project. Later, Her Excellency met the members of a Farmers' Club solely operated and monitored by women of the village. She observed the activities of the Women Farmers' Club. She was highly impressed with the effort of women in making themselves self-dependent and self-reliant.
In the afternoon, an interactive session involving the Assistant Directors of Agriculture from various blocks of Coochbehar, Jalpaiguri, Alipurduar districts was organised at Lansdowne Hall, office of the District Magistrate, Coochbehar in presence of Her Excellency. The meeting was also attended by Hon'ble Minister In-Charge, North Bengal Development Department, Government of West Bengal, Mr. Rabindranath Ghosh, Vice-Chancellor UBKV and District Magistrate, Coochbehar. The SRFSI team presented the achievements of the project and highlighted the increased profitability (15-40%), high water productivity (20%), higher fuel efficiency (0.83-0.96 q/l diesel), low environmental footprints (70-80%), lower effect of climate change and vagaries (20%), increased productivity (4-6%) of the CASI technologies over conventional agriculture, etc. She was appraised of the progress the project has made so far and HE wished extension of the technologies in wider areas, noted the valuable observations by different officials.
10 Nov 2017: Sensational presence at Ghugumari node, Coochbehar I Block, Coochbehar, WB : The Honourable High Commissioner of Australia to India visited trial fields of SRFSI and acquainted with the implemented technologies viz., mechanized rice transplanting, solar irrigation system, no-till planting of maize and lentil, etc. After the demonstrations, she interacted with the farmers and farmers' club, private sectors and women groups engaged with SRFSI-Project in Coochbehar-I block. Farmers shared their experience with SRFSI team about their initial misperceptions and apprehension about CASI technologies. Some success stories were also shared by a few farmers especially women, who enthused many others to be attracted towards SRFSI activities. Few also requested to carry such activities to their respective places for booming the farm performance and motivating the farmers towards Conservation Agriculture (CA).
After a long interaction, she visited Satmile Satish Club and Pathagar (SSCOP), a service provider of the project to observe activities, events and accomplishments for the improvisation of agriculture techniques. She was highly impressed by the activities and the Service Provider Business Model developed under the SRFSI project especially for creation of employment opportunities and motivation among the youth for engaging themselves in farm activities and rendered heartfelt good wishes for successful completion of the project.
OVERALL IMPRESSION
The interactions focused on the latest developments in agriculture education and application of Conservation Agriculture technologies in farming, its bio-physical, socio-economic impact on the farming community. Her Excellency heeded to views of every participant (students, farm men & women, officers). Appreciation from the end of Her Excellency is the added acknowledgement and recognition to the SRFSI project implemented at Coochbehar, West Bengal in particular and Uttar Banga Krishi Viswavidyalaya at large.
​
| | |
| --- | --- |
| | |
| Interaction with PG students | Visit to SRFSI on-farm trials at Dinhata |
| | |
| Interaction with SRFSI women farmers' group at Dinhata | Visit to Solar Irrigation System installed by the SRFSI project at Ghughumari |
| | |
| Mechanical Rice Transplanter used in the SRFSI project at Ghughumari | Experiencing the tractor driven multicrop planter at Ghughumari |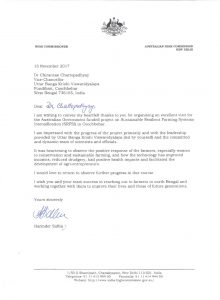 [border margin="no"][/border]