Ginger Variety from Uttar Banga Krishi Viswavidyalaya: A New National release
Ginger Variety from Uttar Banga Krishi Viswavidyalaya: A New National release
Scientists of Uttar Banga Krishi Viswavidyalaya have developed a variety of ginger named "Mohini", which was announced in the Gazette of India of 16th January 2018 by the Department of Agriculture, Cooperation and Farmers' Welfare, Govt. of India (notification vide REGD. No. D.L.-33004/99). The variety is recommended mainly for West Bengal, Odisha, Kerala and Himachal Pradesh apart from other ginger growing states of the country. The genotype was collected from Morolpara in Alipurduar district and the selection was done in West Bengal and at the National Level to test the performance of the variety. It is a high yielding variety (14 t/ha) compared to generally marketed ginger (6-10 t/ha). Mohini has a natural sweet aroma apart from other characteristics of ginger varieties generally found in the market. Ginger is marketable for its aroma and presence of essential oil and oleoresin (usual range in ginger sold in market: oil: <1%; oleoresin: 2-4%), the chemicals which are known for its medicinal and nutritive values, which are present in higher percentage (4.13% oleoresin; 1.31% essential oil) in this variety MOHINI. Further, Mohini has high dry recovery percentage (21.7%), whereas in the ginger generally marketed, dry matter content is 16-20%, which makes it a better resource for exporting higher weight after drying. Mohini also has been found to be moderately tolerant to the dreaded rhizome rot and wilt complex (29.3% disease reduction over local susceptible check cv. GCP 5). Considering all quality parameters, it is unique and superior to ginger varieties found in the market with commensurate economic advantage to the concerned grower. Multiplication of breeder seed of this variety has been taken up by the University farm. The variety has been developed by Dr. Soumendra Chakraborty along with horticulturist Prof. Suchand Datta, pathologist Dr. Anamika Debnath and Mr Murari Roy (Technical Assistant) and the previous contributions from Dr. Sekhar Bandyopadhyay, Prof Jagadish Chandra Jana, Dr. Surajit Khalko, Prof. B.C. Saha, who have tirelessly worked since its collection in the year 2007 on developing the released variety with support from the Director of Research, Prof Ashok Choudhury.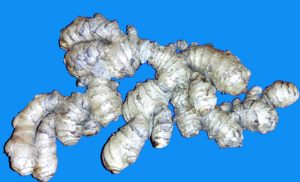 Characteristics of the variety MOHINI:
1. Bold and attractive flavoured rhizome
2. High yield potential -14.0t /ha (approx.)
3. High dry recovery percentage – 21.7%
4. High essential oil content: 1.31%
5. High oleoresin content: 4.13%
Download Gazette of Ginger Variety MOHINI released notification
Comments are closed.